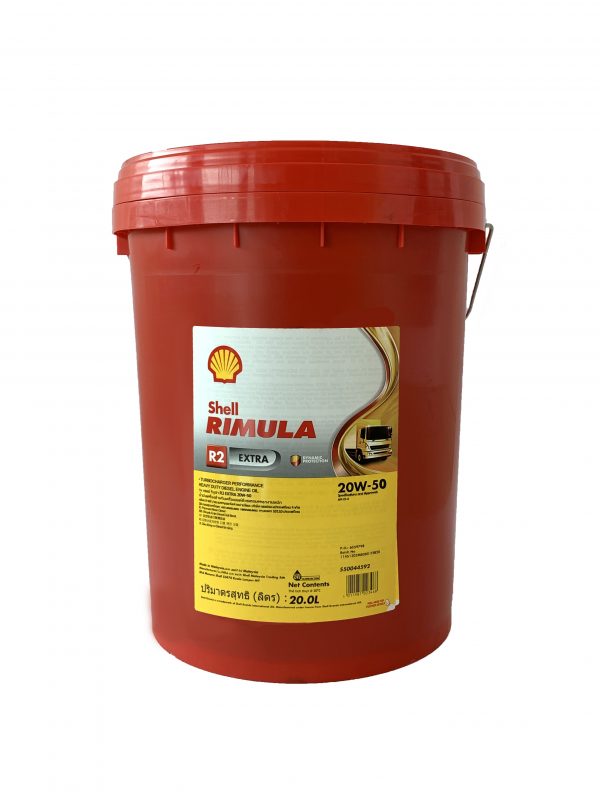 Available on back-order
Shell Rimula R2 Extra 20W-50
Shell Rimula R2 Extra 20W-50
Heavy Duty Diesel Engine Oil
Shell Rimula R2 Extra oils keep the engine clean. Additives ensure protection against deposits, wear and resist thickening by heat, suitable for most heavy duty applications including turbo-charged engines.
Description

Additional information

Product Attachment
Performance, Features & Benefits
·    Multigrade benefits
Compared to monograde oils, Shell Rimula R2 Extra can deliver the user a range of benefits associated with the use of multigrade oils. These include reduction of oil consumption by up to 30%*, longer oil life and improved fuel economy. (* As stated by a leading engine maker).
·    Protection for turbo-charged engines
Shell Rimula R2 Extra can be used in many turbocharged engines to provide protection and long engine life.
·    Major engine manufacturer acceptance
Shell Rimula R2 Extra meets the recommendation of many major automotive engine builders providing flexibility to vehicle and equipment owners.
Main Applications
·    Automotive diesel engines
Shell Rimula R2 Extra is the ideal choice for a wide range of turbo-charged and non-turbocharged engines under normal operation. It is particularly recommended for use in older trucks and buses as well as for cost effective lubrication in off highway applications such as agricultural tractors.
For more severe operations or applications in modern low emission engines we recommend Shell Rimula R4 X multigrade engine oils.
Specifications, Approvals & Recommendations
API CF-4
For a full listing of equipment approvals and recommendations, please consult your local Shell Technical Help Desk.
| | |
| --- | --- |
| Volume | 20 Litres, 209 Litres |