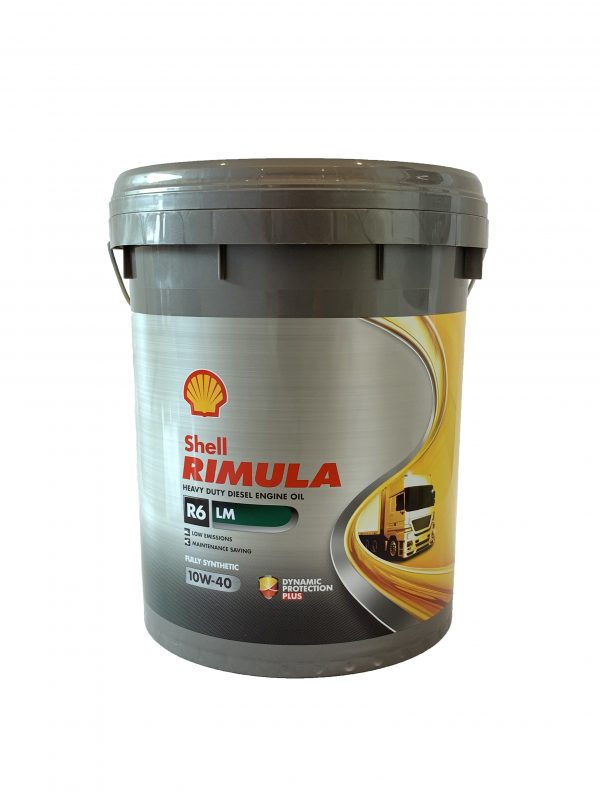 Available on back-order
Shell Rimula R6 LM 10W-40
Shell Rimula R6 LM 10W-40
Fully Synthetic Heavy Duty Diesel Engine Oil
Fully synthetic oil featuring "Low-SAPS" additive technology to provide protective power and deliver Maintenance Savings.
Description

Additional information

Product Attachment
Performance, Features & Benefits
·   Maintenance saving
Shell Rimula R6 LM meets the long oil drain requirements of Mercedes-Benz, MAN and others, from the latest Euro 6 to older generation engines, to allow operators to optimize maintenance schedules and control maintenance costs.
·   Emissions system compatibility
Advanced low-ash formulation helps control blocking of or poisoning of exhaust after-treatment devices, helping maintain vehicle emission compliance and engine fuel efficiency.
·   Low wear, low deposits
Unique additive technology delivers high levels of piston cleanliness essential for long engine life and wear protection.
·   Fuel economy
Shell Rimula R6 LM can save money in fuel consumption compared to high viscosity grades.
Main Applications
·  On-highway heavy duty applications
Particularly suited for a wide range of trucking and transportation applications in modern low-emission vehicles from Mercedes-Benz, MAN, Volvo and others. Especially suitable for fleets with mixed Euro 2,3,4, 5 and 6 engine types.
·  Low emission engine use
Shell Rimula R6 LM meets the latest requirements of most OEMs for Euro 4, 5, 6 engines and exceeds the performance requirements of industry specifications such as ACEA E9 and API CK-4.
·  CNG engine oil performance
Shell Rimula R6 LM is approved for use in buses and trucks fitted with engines designed to run on 100% CNG such as those from Mercedes-Benz and MAN.
Shell Rimula R6 LM is suitable for use with biodiesel per the OEM recommended oil drain intervals.
Specifications, Approvals & Recommendations
 ACEA E6, E9, E7
 API CK-4, CJ-4
 Caterpillar ECF-3, ECF-2
 Cummins CES 20086, 20081
 DAF Meets ACEA E6
 Deutz DQC IV-10 LA
 Detroit Fluids Specification 93K222, 93K218
 JASO DH-2
 Mack EO-S 4.5, EO-O Premium Plus
 MAN M 3477, M 3271-1
 MB-Approval 228.51
 MTU Category 3.1
 Renault Trucks RLD-4, RLD-3
 Volvo VDS-4.5, VDS-4
 Iveco NG2 – Meets the requirements
 For a full listing of equipment approvals and recommendations, please consult your local Shell Technical   Helpdesk.
| | |
| --- | --- |
| Volume | 20 Litres, 209 Litres |